About the Tree Guide
As of spring 2022 we've sold out of our tree guides. We are hoping to develop an electronic version in the near future. In the meantime, you can use the Denver City Tree Keeper tool to identify any tree on public land within Denver. 
FANS has produced and published the Washington Park Tree Guide, an eighty page spiral bound book now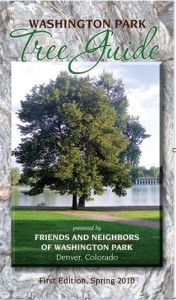 available. The book identifies and describes 76 different species of trees in Washington Park and South High School with leaf drawings of each specie.  The tree guide includes a self guided tour of all 76 trees divided into three section tours with maps.  Each tree in the book has a corresponding numbered red diamond attached to the tree.
FANS received a major grant from the Colorado Tree Coalition, generous donations from Washington Park East Neighborhood Association, West Washington Park Neighborhood Association and individuals in the community to be able to produce this guide.
The Washington Park Tree Guide costs $4.00, includes tax, with the proceeds going toward future reprinting and purchase of specimen trees for the park.