FANS conducts a variety of free, educational activities throughout the year. For example, we hold guided tours in our gardens, tree tours, bird watching events, as well as informative lectures on a variety of topics.
Indoor meetings are typically are held at the Dos Chappell Bath House, 600 S. Marion Parkway, Denver, Colorado 80209. The Bathhouse is also home of Volunteers for Outdoor Colorado.
Our next events are typically featured on the menu to the right ->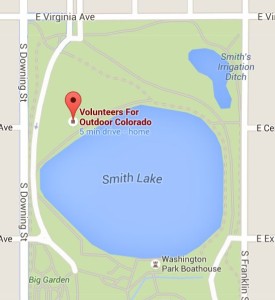 Meetings typically include a brief overview of the latest park news and often feature a guest presenter. We frequently have presenters from the city discussing park improvement projects. Other topics have included, park lake water quality, recycled water impact on trees, chemicals used in the park, guided tree walks, guided bird walks, park photography tips, geese control and squirrels.
We are always looking for topic suggestions and presenters of interest to the Washington Park community. If you have a suggestion you may contact anyone on our board.
Previous topics and presenters have included:
Lake water quality. October, 2019, Alan Polonsky, Environmental Analyst II with Denver Department of Environmental Health, Environmental Quality Division discussed the quality of the water in our lakes. Click here for more information.
Dan Goldhamer, Extension Agent-Horticulture discusses Japanese beetles. Click here for more information and reference materials.
Amy Yarger, Horticulture Director Butterfly Pavilion.
Topic: improving pollinator habitat and what plants attract pollinators Amy's handouts and resources.
In May we typically conduct a Denver Parks central green house tour.